Today, we're talkin' rings + money! Are you familiar with the three months' gross salary rule? There's an antiquated wedding + engagement rule, still floating around, that suggests a man (or woman) should spend about 3-months' of their salary when engagement ring shopping.
We get it! Most folks start out engagement ring shopping with no real direction. Not only that, but they don't know how much they should expect to spend. With that said, we've got some good news! A few of our favorite industry experts shared their thoughts on debunking this 3-months' salary rule.
The main takeaway? It's not all about the number on the price tag!
Engagement Ring Insight From Our Experts
"There's no one-size-fits-all answer to how much you should spend on an engagement ring. It's different for every couple, and all comes down to your comfort level, wishes + personal finances. However, we do have a one-size-fits-all piece of advice: You shouldn't go into a massive amount of debt for your ring! After all, the engagement is just the first step—now you have a wedding to plan (and pay for). If you want a harmonious marriage (and who doesn't?), don't start out drowning in debt.
Our best tip is to stop focusing on price and start focusing on meaning. Of course, your ring is a symbol of your future together; but it should also reflect your values. For example, if being environmentally and/or socially conscious is important to you, find a ring that uses conflict-free or lab-created diamonds, recycled metals, or fair-trade gold. Check out websites like Etsy for budget-friendly, vintage finds; or consider alternate stones like opals, morganite, or even moissanite! And if you're all about family, a time-honored heirloom ring would be incredibly meaningful.
So, forget the outdated 'three-month's salary' rule and focus on the sentiment behind that piece of jewelry. A ring picked out specifically for your partner—that represents their unique style, ethics, and ideals—is exceedingly more valuable than what is says on the price tag." – Jenna Miller, Creative Director, Here Comes the Guide
Conflict-Free Diamonds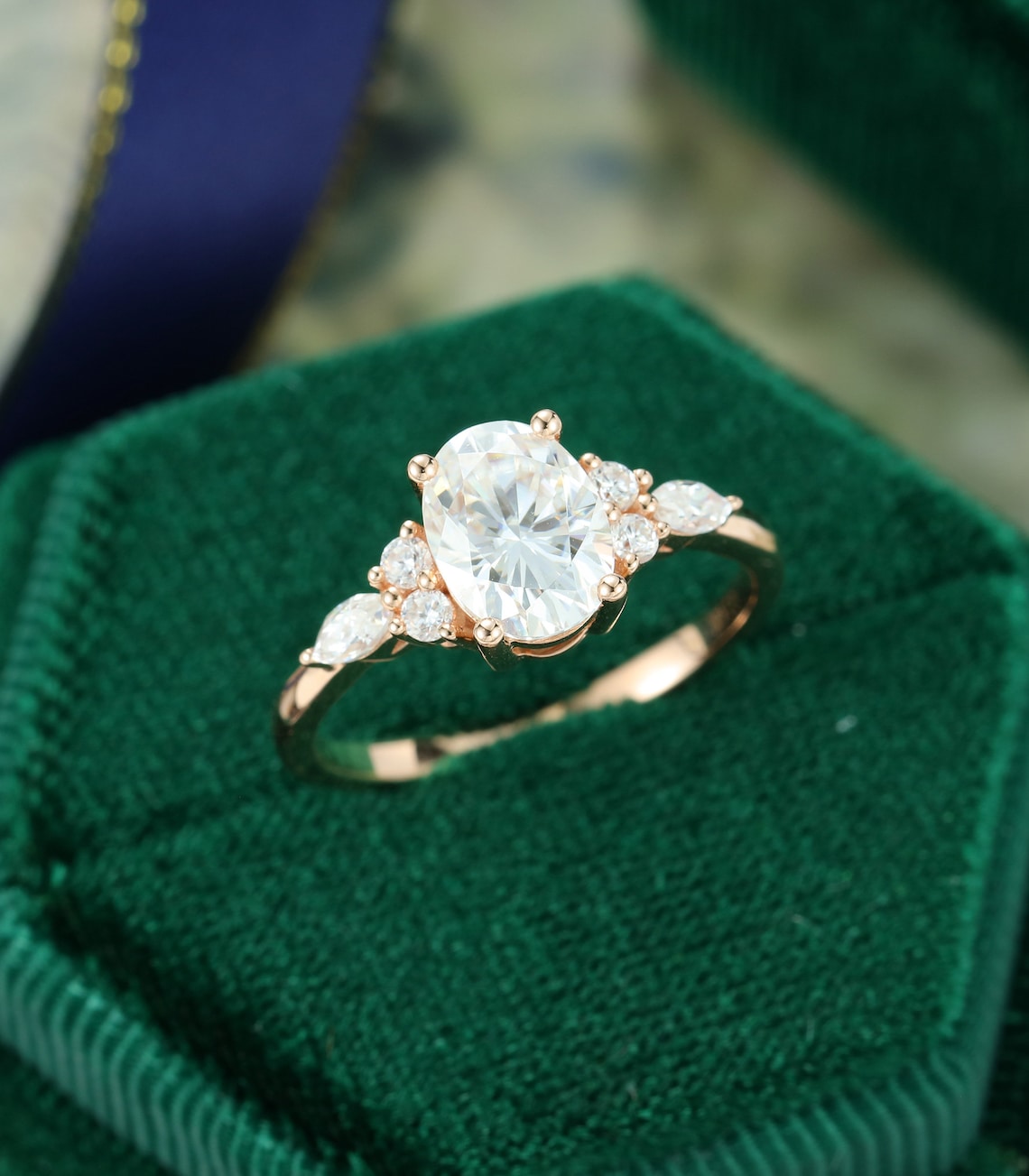 Oval Moissanite Engagement Ring – $588 via Etsy
Aquamarine Engagement Ring Set in Rose Gold – $695 via Etsy
Rose Cut Pear Natural Diamond Engagement Ring – $758 via Etsy
Salt and Pepper Diamond Engagement Ring – $680 via Etsy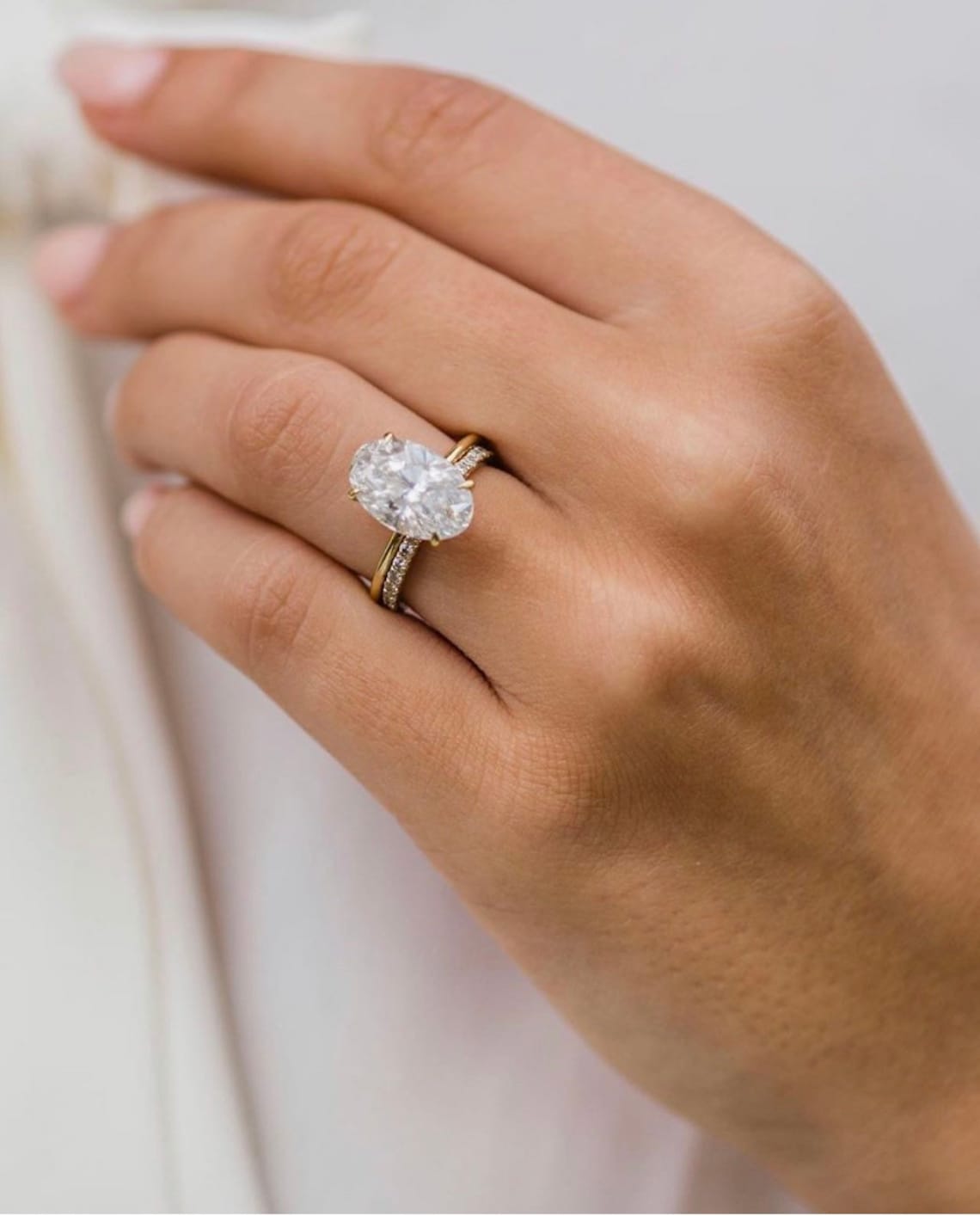 Oval Moissanite Engagement Ring – $300 via Etsy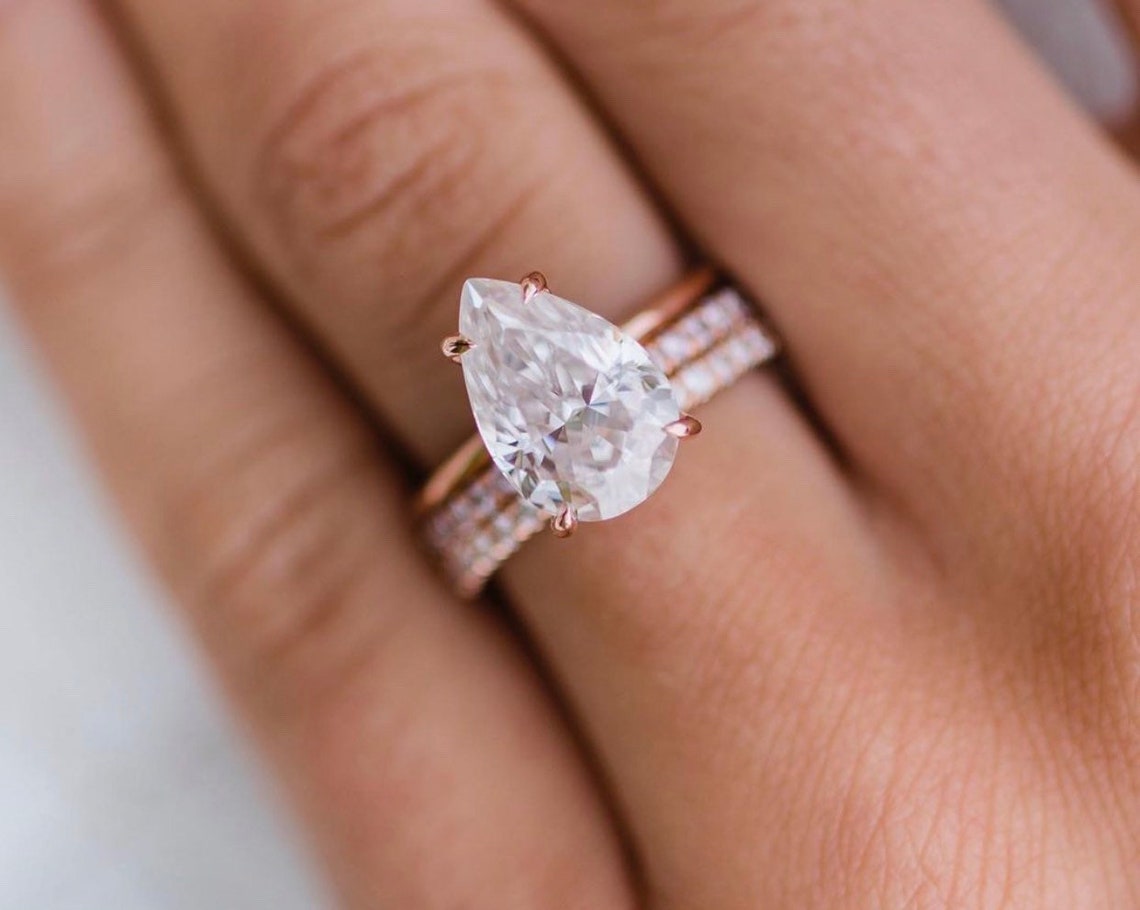 Conflict-Free, Ethical Pear Shape Ring – $295 via Etsy
"There is a BIG myth that 3 months' salary should be spent on an engagement ring. If you can spend 3 months' salary on an engagement ring that is great, but if you can't, don't worry; you aren't breaking any rules! When purchasing an engagement ring, it is best to go into it with a budget in mind. A budget that works for you! It's never a good idea to break the bank by buying a diamond that you can't really afford. Some couples come up with a budget together – while others don't…there is no 'right way.' It's more about what's right for your relationship and you, financially. Buying an engagement ring should be exciting, not stressful. Work with a jeweler that educates you, respects your budget + understands your needs." – Kaeleigh Testwuide, President, The Diamond Reserve
Vintage Engagement Rings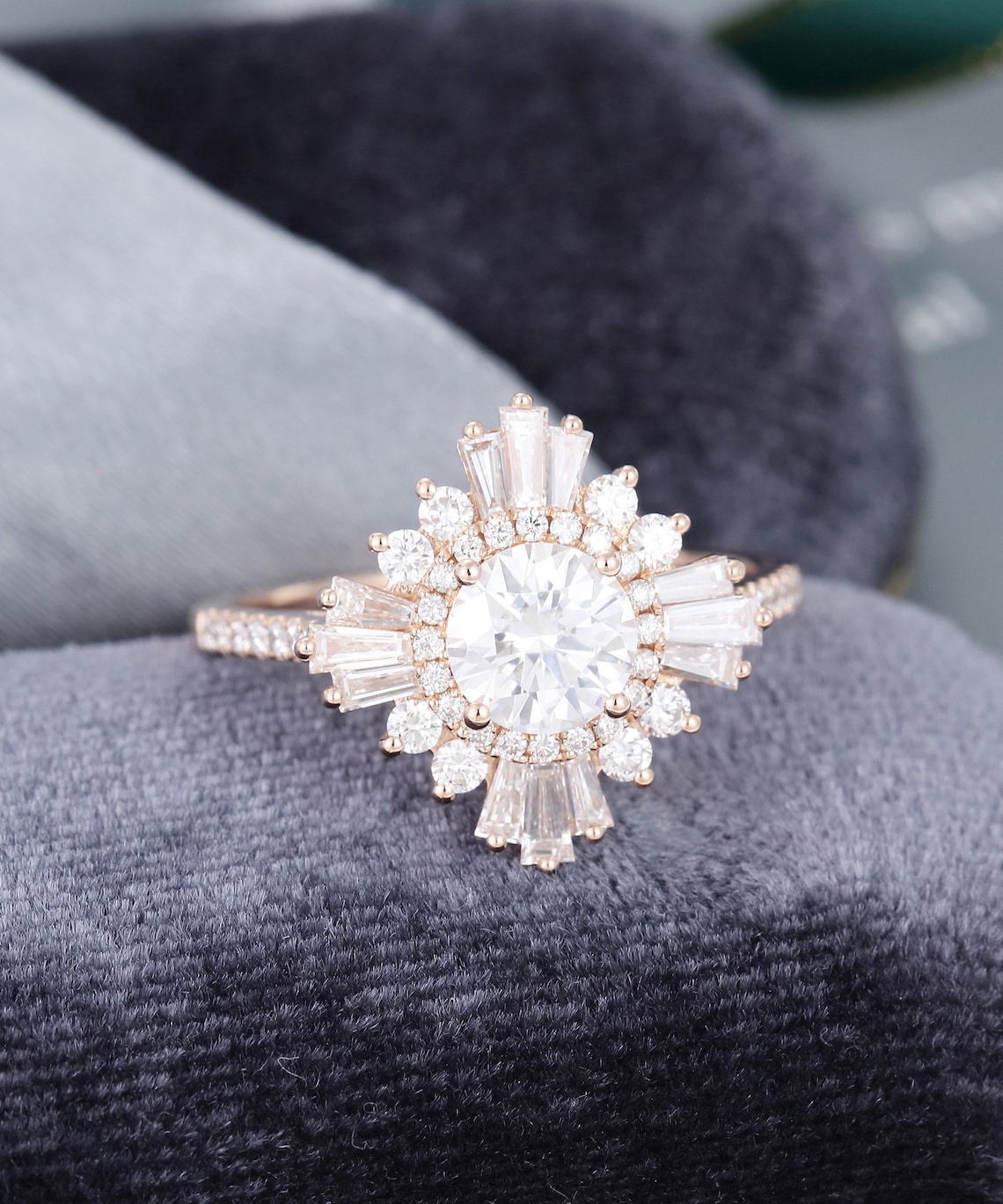 Vintage Rose Gold Engagement Ring – $610.40 via Etsy
Vintage Morganite Engagement Ring Set in Rose Gold – $970 via Etsy
Vintage Halo Rose Gold Engagement Ring – $595 via Etsy
Vintage Black Rutulated Quartz Engagement Ring – $431 via Etsy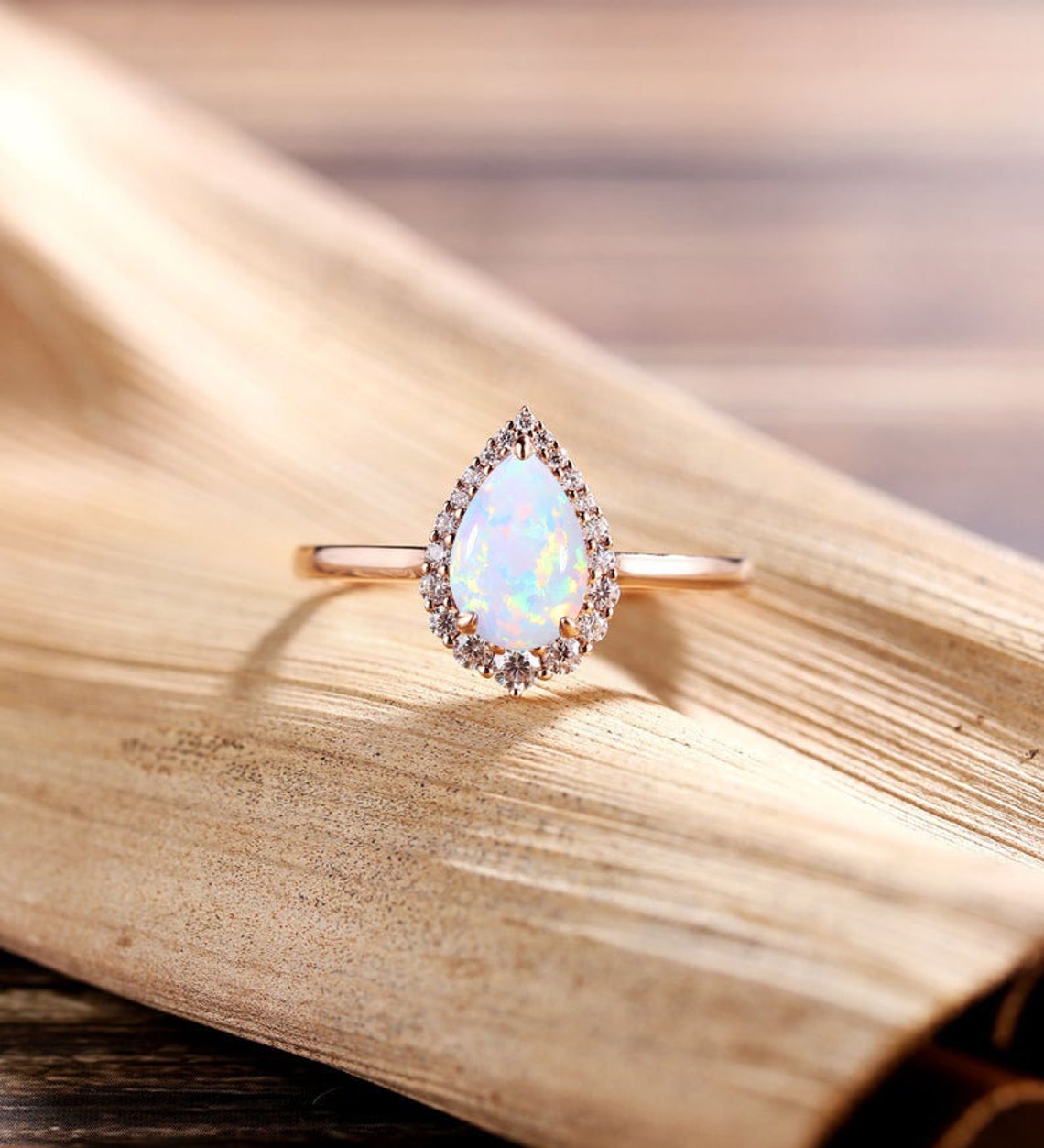 Vintage Opal Art Deco Engagement Ring – $588.89 via Etsy
"There is no finite number for how much to spend on a ring, but here are some variables to take into a consideration while ring shopping. Here are a few things to consider: 1.) The purchaser's salary 2.) The location – ring pricing varies from city-to-city, state-to-state 3.) The design – the more intricate the more expensive the ring will be 4.) Finally, what she's going to like!" – Finer Custom Jewelry
We love breaking tradition + following our hearts! Enjoy engagement ring shopping whichever way feels best to you. But, ultimately, be thoughtful about what's most meaningful to you + your partner. And, if you need even more bling-inspo,we put together a list of Instagram accounts to follow!